Parent Carer 2nd Brain – Printable – in teal
£12.99
Over 40 templates to download and print to make the life of any parent carer a little bit easier. A collection of contacts, medication, calls and emails, needs and outcomes, working and not working, along with a fun colouring page, ideas for when you've had a sh*t day and so much more.
Shop with confidence!
Satisfaction Guaranteed
No Hassle Refunds
Secure Payments
Description
Where do we even begin to describe this thing of beauty?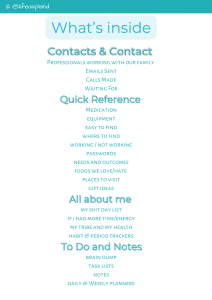 There are over 40 pages within the pack including:
Contact pages (split into education, health and care + other)
Contact pages showing when last seen and when due to see
Emails sent
Calls made
Waiting for
Medication – dosage
Medication – information
Medication – who is responsible
Medication – questions to ask
Equipment – what and who provides
Equipment – information
Where the important docs are filed (or which pile of paperwork they are in)
An easy-to-find page for those things you need but not all the time (eg Hospital reference number, benefits reference)
What's working and not working?
What are the needs and outcomes we are working towards?
Passwords and user names for their ipads and equipment (because they never remember)
Foods we love / Foods we want to try
Places to visit
Gift ideas / Gifts bought (and put somewhere safely, never to be seen again)
My Sh*t Day list
If I had more time/energy
Inspirational quote colouring page
My tribe
My knickers
Habit Tracker
Period Tracker
Brain Dump
Task Lists
Notes page
Daily and Weekly Planner pages
It's a great collection of pages, allowing you to print off what you want or need, as and when you need it.  Imagine a folder that works for you, where you have all the information you need in one place.
This is a brilliant gift for any parent carer or anyone who is involved in the life of someone with special educational, or additional, needs or a disability.
Created by a mum who has three teenagers, each with a variety of labels, who knows the challenges of trying to stay on top of it all.
The downloads come in A4 and Letter size so you can choose the one that works best for you.